No-pasta bake
Linnea Vihonen
Chef and creative innovator.
1 h
4
Ingredients
2 bags Rooty Potato Rice or Pan Noodle
1 tbsp rapeseed oil
1 onion
6 garlic cloves
400 g beef mince or vegetarian mince
2 tsp dried oregano
2 tsp paprika powder
½ tsp ground black pepper
½ tsp salt
Egg milk:
6 dl milk or oat milk
3 eggs
1 tsp fine sea salt
plus:
1–2 dl grated emmental & mozzarella
Green salad
Vinaigrette:
2 dl olive oil
2 tbsp lemon juice
1 tsp dried herbs, e.g. rosemary
0,5 tsp salt
Recipe
Fry the potato rice following the instructions on the packet. You can fry the potato rice or pan noodle the day before, if you like.
Peel and chop the onion and garlic cloves. Fry the onions in the pan with some rapeseed oil for three minutes. Add the mince and spices. Fry until the mince is cooked through.
Grease an approx.3 L oven dish with rapeseed oil. Mix the potato rice/pan noodle and the mince together in the dish.
In a bowl, whisk the eggs and salt into the milk. Pour the egg and milk mixture into the dish and even it out. Bake in the oven at 175 degrees Celsius for approx.45 minutes. When there is 15 minutes of cooking time left, top the dish with the grated cheese.
Green salad: Put all of the ingredients into a container with a lid and shake well. Pull the leaves of the little gem lettuces off, wash them, and dry them. Pour the vinaigrette over the lettuce.
VIDEO RECIPE (in Finnish)
Rooty Potato Rice
Rooty Potato Rice is healthy and easy to prepare, plus you're saving the planet on the side. We have created an all-round good side dish that turns any main meal into something special. You can cook it in a pan as part of a stir fry, or bake it to serve with curry. Potato Rice is really versatile.
Swapping out rice for Potato Rice is an everyday choice that really helps the environment. You see, rice needs five times more water to grow than potatoes do. That's quite a difference.
Why do things the hard way, when it's so easy to be good? Rooty Potato Rice – Join The Kind Side
Rooty Potato Rice Ingredients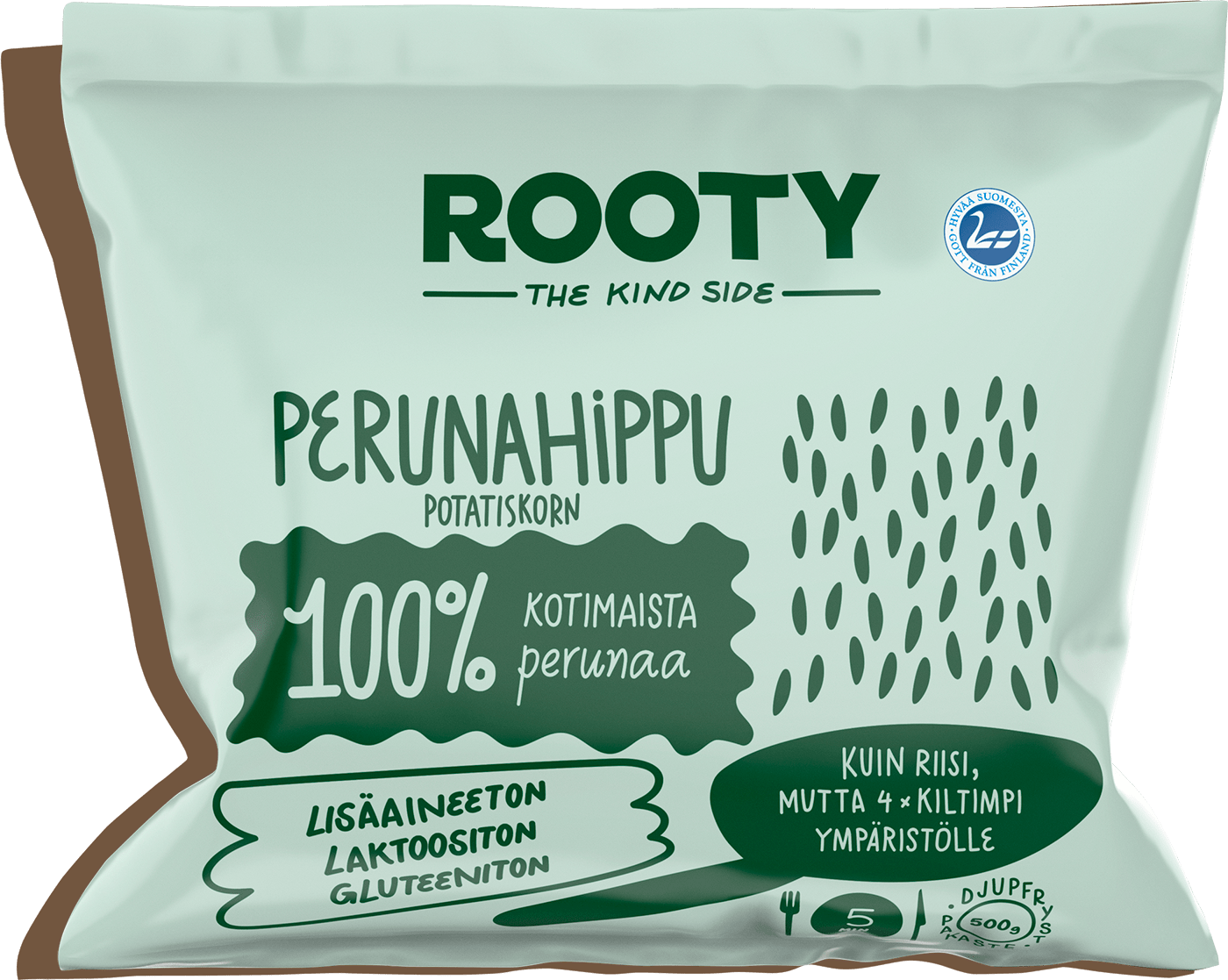 See also
Feta and potato omelette
Tortilla Española with Potato Rice
Nasi goreng