25
4
Ingredients
1 bag Rooty Pan Noodles
250 g trumpet chanterelles (optional)
1 onion
2 garlic cloves
80 g smoked reindeer
5 dl whipping cream
parsley
thyme
rosemary
salt
pepper
turnip rapeseed oil
Lingonberries and gherkins to serve
Recipe
Heat a frying pan and finely chop the trumpet chanterelles. Add a dash of oil to the pan and add the trumpet chanterelles. Season with a little salt to bring out the liquid from the mushrooms. Fry the mushrooms until the liquid has evaporated from the pan. Chop the onion and garlic cloves. Add them to the pan with the mushrooms. Add the defrosted potato noodles to the pan. You can defrost them in a sieve under running water. You can also add the noodles frozen, but the food will take slightly longer to cook. Sauté the potatoes for a few minutes in the pan and then add in slices of smoked reindeer and whipping cream. Let the cream boil for approx. 5-10 minutes, until it is clearly thicker and barely runs. Season the bake with the finely chopped herbs, salt, and pepper. Serve with lingonberries and gherkins.
Makes an excellent evening meal at Christmas parties. The lingonberries and gherkins add the finishing touches to this fantastic meal. The herbs add a lovely freshness. Super good, try it and see for yourself!
RECIPE: Huono Äiti
Rooty
Pan Noodle
Rooty Pan Noodle is healthy and easy to prepare, plus you're saving the planet on the side. We have created an all-round good side dish that turns any main meal into something special. Pan Noodle can be used in a hearty Pad Thai or a fresh veggie stir fry. You can do anything with Pan Noodle.
If you swap your wheat noodles for potato – the northern superfood – you're also doing the environment a favour. Potato yields are four times larger than wheat yields grown on the same amount of farmland. What you eat matters!
Why do things the hard way when it's so easy to make eco-friendly food? Rooty Pan Noodle – Join The Kind Side
Rooty Pan Noodle Ingredients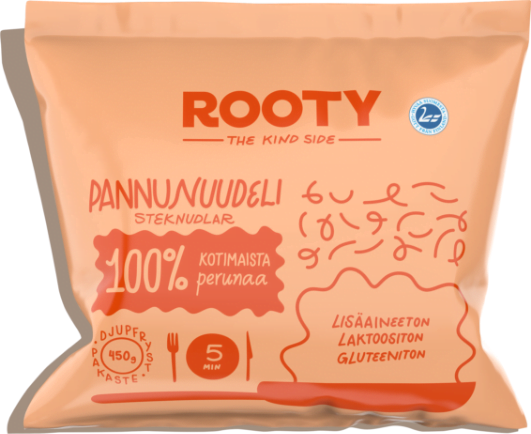 See also
Nasi goreng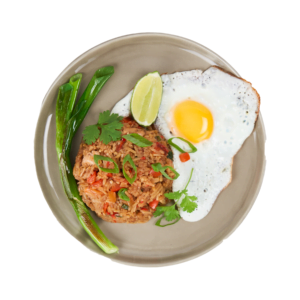 Mediterranean pie