Butter chicken and Indian herby potato rice
Linnea Vihonen
Chef and creative innovator.
30 min.
4
Ingredients
1 tbsp butter
1 pack (approx.600 g) chicken fillets
1 onion
1 red chili
6 garlic cloves
1 piece of ginger, approx.5 cm
2 tsp garam masala
½ tsp cardamom powder
2 tps cumin
500 g tomato passata
4 tbsp tomato puree
1 tsp fine sea salt
2 dl whipping cream or cooking cream
Cumin sauce:
2 dl Turkish yoghurt
1 tsp cumin
1 tsp lemon juice
½ tsp fine sea salt
Herby Potato Rice:
1 bag Rooty Potato Rice
1 tbsp rapeseed oil
1 tsp salt
½ tsp cumin
black pepper from a mill
½ bunch fresh mint
½ bunch fresh coriander
Recipe
Cut the chicken into cubes and brown it in butter. Set aside. Peel and chop the onion and garlic cloves. Chop the chili. Peel and chop the ginger into cubes.
Fry the onions, chili and ginger in butter for five minutes. Add the spices and stir for a few moments. Add the cubed chicken, tomato passata, tomato puree, and salt. Stir, let come to the boil, and then simmer under a lid for around 15 minutes. Finally, add the cream. Stir and let heat through.
Prepare the cumin sauce by mixing all of the ingredients together.
Fry the potato rice in oil until golden brown. Add the spices and fresh herbs, and stir. Serve with the butter chicken and cumin yoghurt.
VIDEORECIPE (in Finnish)
Rooty Potato Rice
Rooty Potato Rice is healthy and easy to prepare, plus you're saving the planet on the side. We have created an all-round good side dish that turns any main meal into something special. You can cook it in a pan as part of a stir fry, or bake it to serve with curry. Potato Rice is really versatile.
Swapping out rice for Potato Rice is an everyday choice that really helps the environment. You see, rice needs five times more water to grow than potatoes do. That's quite a difference.
Why do things the hard way, when it's so easy to be good? Rooty Potato Rice – Join The Kind Side
Rooty Potato Rice Ingredients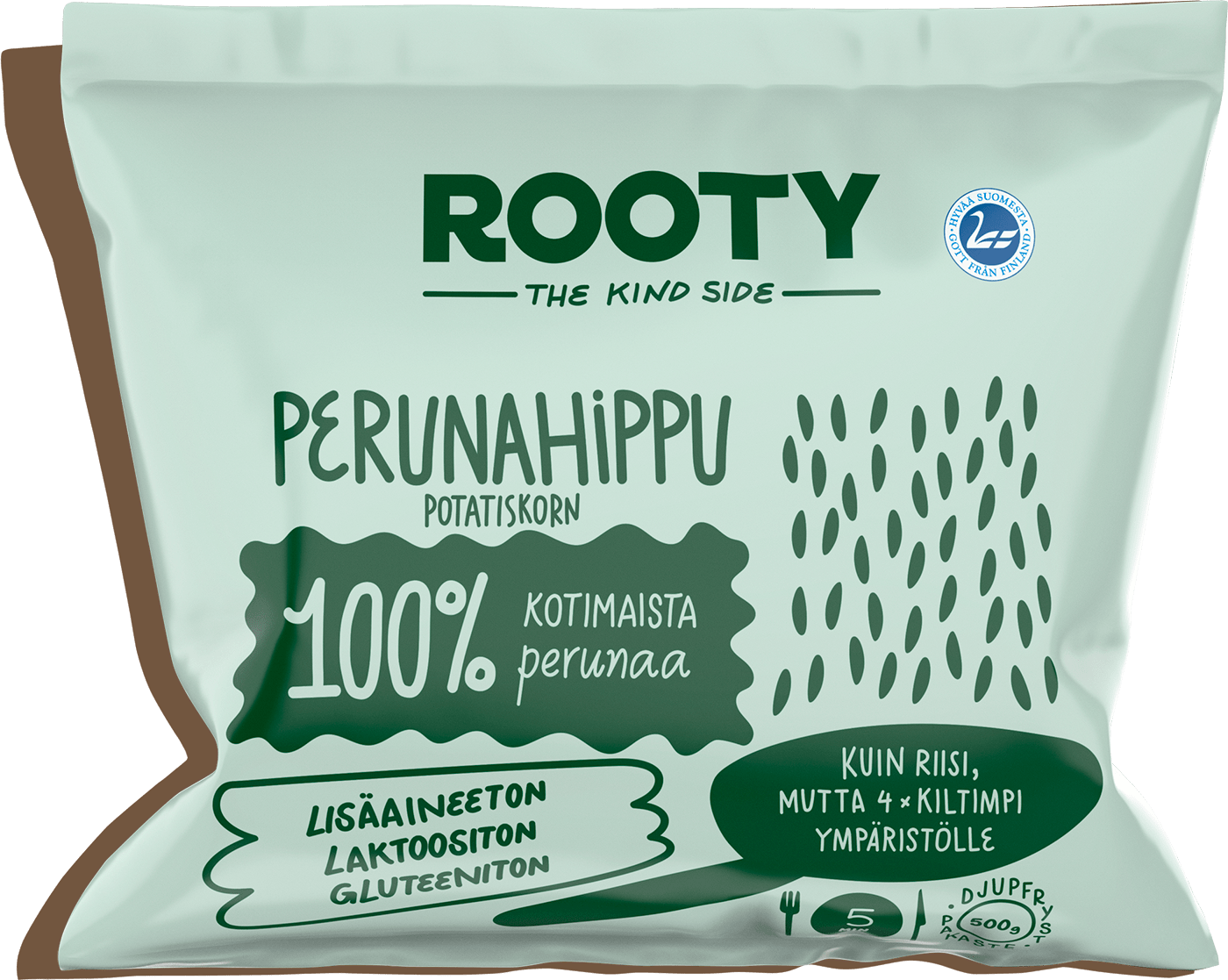 See also
"Pasta Alfredo" with potato
Stuffed potato patties
Pan Noodle pesto pasta