Grated tofu and Pan Noodles
25
3-4
Ingredients
1 packet (300 g) Jalotofu Aasia (or Jalotofu Marinoitu / Kylmäsavu)
300 g Rooty Pan Noodles
1.5 tbsp + 1.5 tbsp oil for frying (e.g. sesame or olive oil)
2 tbsp flavouring sauce (e.g. Hoisin or teriyaki)
1 small bell pepper
1 small carrot
1 red chili, deseeded
100 g sugar snap peas
2 spring onion stalks
1-2 tbsp sesame seeds
fresh coriander
Recipe
Heat the oven to 225 degrees Celsius. Open the Jalotofu Aasia packet and drain the excess marinade from the packet. Grate the tofu into a bowl using the largest holes on the grater. Mix in 1.5 tbsp oil, e.g. toasted sesame oil. Arrange the grated tofu in an even layer on a baking sheet lined with baking paper.  The thinner the layer, the crispier the result. Place the baking sheet on the middle or second-highest shelf of the oven. Cook for 20 minutes and turn the grated tofu halfway through. Be careful not to burn the grated tofu; check it regularly through the cooking process. Take the crispy grated tofu out of the oven and mix in 2 tbsp of your preferred flavouring sauce (e.g. Hoisin or teriyaki). While the grated tofu cooks, cut the bell pepper into cubes, slice the carrot into small sticks, and chop the chili, and spring onion. Once the grated tofu is ready, heat 1.5 tbsp oil in a pan and fry the vegetables for 2-3 minutes, turning them regularly. Add the grated tofu and noodles, and fry for a few minutes. Remove from the heat and pour in the extra sauce and sesame seeds. Mix and garnish with fresh coriander.
RECIPE: Jalotofu
Rooty
Pan Noodle
Rooty Pan Noodle is healthy and easy to prepare, plus you're saving the planet on the side. We have created an all-round good side dish that turns any main meal into something special. Pan Noodle can be used in a hearty Pad Thai or a fresh veggie stir fry. You can do anything with Pan Noodle.
If you swap your wheat noodles for potato – the northern superfood – you're also doing the environment a favour. Potato yields are four times larger than wheat yields grown on the same amount of farmland. What you eat matters!
Why do things the hard way when it's so easy to make eco-friendly food? Rooty Pan Noodle – Join The Kind Side
Rooty Pan Noodle Ingredients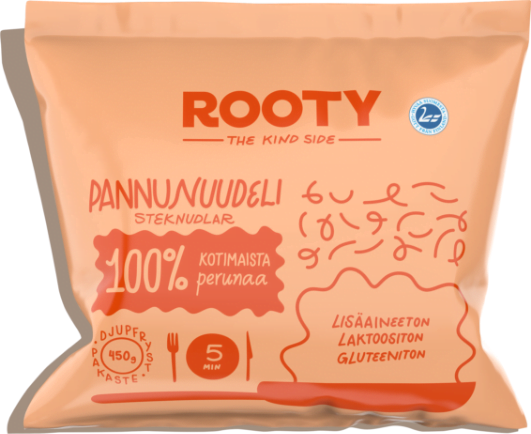 See also
Potatoes Bangkok
Potato rösti snack
Pan noodle salad