45 min
2-3
Ingredients
approx. 300 g potato rice
1 tbsp olive oil
250 g cherry tomatoes
2 cloves of garlic
small piece of ginger
zest and juice of ½ a lemon
(100 g) bell pepper
2 dl water
1 tbsp vegetable stock
salt and pepper
approx. 250 g tofu
2 tbsp sauce to marinade (e.g. teriyaki)
Recipe
Add the oil, cherry tomatoes, chopped bell pepper, grated ginger, garlic cloves, lemon juice, and lemon zest to an oven dish. Mix all of the ingredients together well. Put the oven dish containing your chopped vegetables into the oven at 200 degrees Celsius and cook for approx. 10 minutes, until they have softened slightly.
Meanwhile, dry the tofu: cut it vertically in half to get two narrow "steak-like" pieces. This will help the tofu to dry more quickly. Wrap the tofu in kitchen paper and place a weight on top of it to remove excess liquid and "dry" the tofu to make it crispier. Mix the water and vegetable stock together in a separate bowl. Once the tofu has spent some time under the weight, cut in into pieces as small or large as you wish.
Take the oven dish out of the oven and add in the potato rice, salt, and pepper. Mix together. Add the water and stock mix to the dish. Place the tofu over the "rice" and coat with the marinade. Cook in the middle of the oven for 10 minutes. Increase the oven temperature to 225 degrees Celsius. Take the dish out of the oven and turn the tofu pieces, then coat the other side with the marinade. Place the dish back in the oven for 20 minutes. Let the food rest for approx. 15 minutes before serving.
Tip! You can also begin to marinade the tofu the evening before, so all you need to do is turn the tofu over during cooking to ensure an even result.
Recipe and pictures by Veera's Kitchen / @keittionurkka / keittionurkka.com
Rooty Potato Rice
Rooty Potato Rice is healthy and easy to prepare, plus you're saving the planet on the side. We have created an all-round good side dish that turns any main meal into something special. You can cook it in a pan as part of a stir fry, or bake it to serve with curry. Potato Rice is really versatile.
Swapping out rice for Potato Rice is an everyday choice that really helps the environment. You see, rice needs five times more water to grow than potatoes do. That's quite a difference.
Why do things the hard way, when it's so easy to be good? Rooty Potato Rice – Join The Kind Side
Rooty Potato Rice Ingredients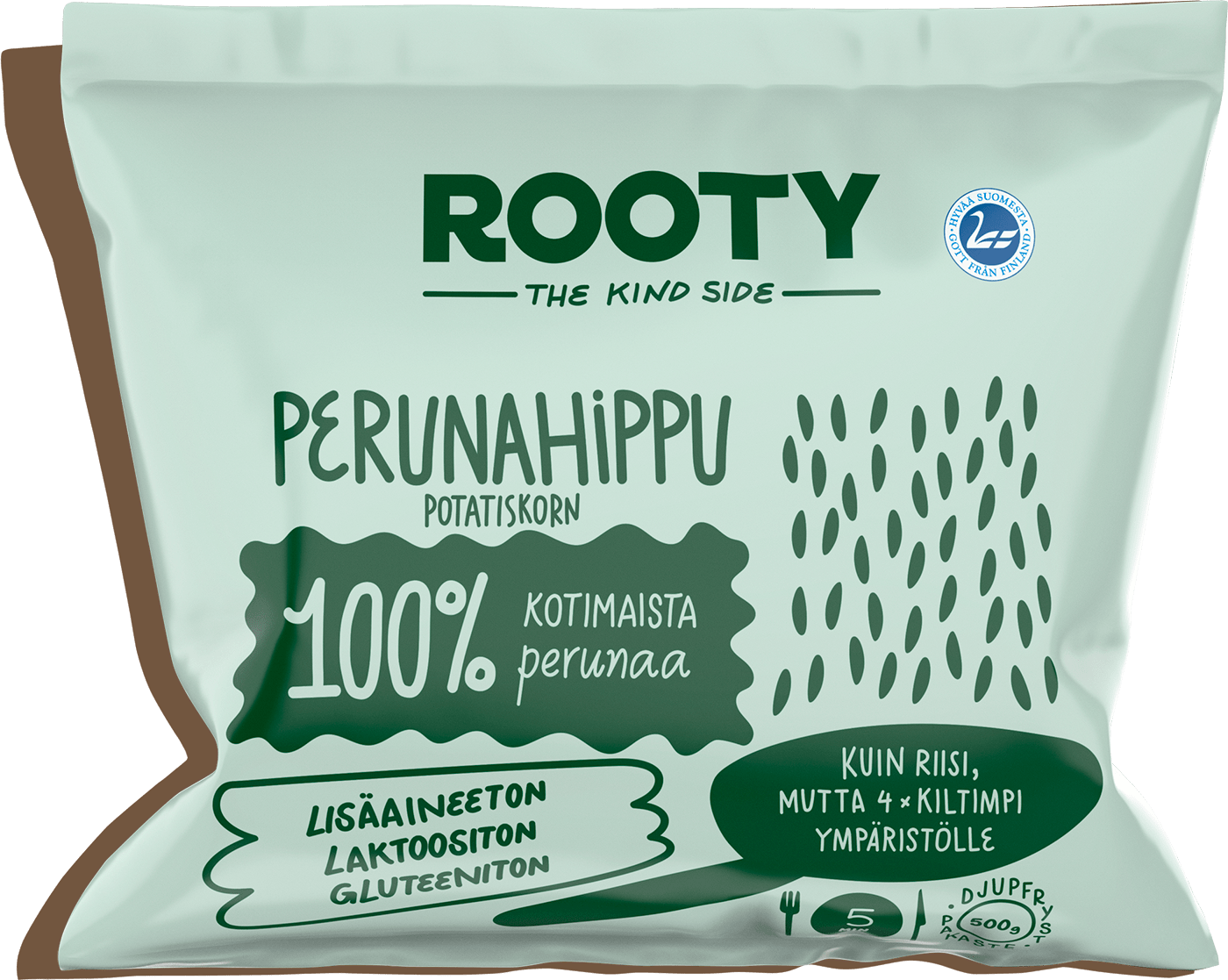 See also
Pan Noodle pesto pasta
Creamy potato salmon
Feta and potato omelette